NOTE: I realize this isn' exactly a fun topic but it certainly didn't fall into categories well either, so I just put it here.
I had this week's blog mapped out last week, but after this past weekend and seeing a ton of freak out on the news, as well as social media about the Coronavirus, I took a few moments to stop and think about the situation and make a plan that works for my family. I do not want to give in to the panic of a situation however, I think one would have to be living under a rock to not feel some type of concern about the Coronavirus. And I recently learned that a friend of mine (they live in New England but not MA) has just learned that someone at his child's school has been diagnosed with the virus. It certainly makes the situation a bit more real and seems a bit more pressing.
So what does this new information mean for my business and my family?
The answer to the business question is easy; I can do my work from home by using phone, internet, and video calls. Really, it won't be much different than what I do now.
For my family, there is not a lot of things we will need to change right now. We will continue to do what we do regularly, it is just standard for good health, regardless of if there is an outbreak of any type. I believe that these are really important basic steps to take and since we are healthy and not high risk the best thing to do is continue with best practices and proceed with caution not panic.
continue to WASH HANDS with SOAP and water
continue to eat healthy meals
continue to exercise
continue to be outside when temperatures allow
continue to WASH HANDS with SOAP and water (yes this is on the list multiple times because it is that important)
continue to cover mouth and nose when coughing
stay home when we don't feel well
continue to WASH HANDS with SOAP and water (seriously, it is that important)
It is easy to identify best practices but I have to wonder how to proceed with caution but not panic. There are certainly plenty of stories in the news and social media about people 'prepping' and seem to be in panic buying mode. I can easily see how easy it is to give in to the temptation to join the crowd but I decided to find some no-nonsense guides to help me prepare with caution and not panic. This is from NPR's How to prepare your home for coronavirus:
But what does preparedness look like in practice? The short answer: Don't panic — but do prepare.

That "means not only contingency planning but also good old-fashioned preparedness planning for your family," says Rebecca Katz, director of the Center for Global Health Science and Security at Georgetown University. In other words, what you'd do in case of a possible hurricane or another natural disaster.
The American Red Cross has information about what types of things to buy to help prepare should you do need to stay home.
Take the time to look at prescriptions and refill anything you can, don't wait until the last minute.
Think about what plans you may need for kids if the schools and/or daycare need close for an extended period.
I am not planning for a situation that could last months, just a few weeks based on the information that I have read from reputable sources. Secondly, I don't want to mass purchase things to have them go to waste, so I do have a plan to use anything I purchase as the concerns decrease. Since I am not planning on purchasing things to allow us to survive for months, I don't anticipate needing a lot of extra space. As I have mentioned in a previous post I plan my menus for a month at a time, so that is going to be my reference as I determine what to buy.
It is wise to go through your pantry on a semi-regular basis to use things up so you are using up the oldest things first, and this is just an excellent reason to do something I should have been doing anyway. If you do this maybe you will realize that you have more on hand than you think you do. I will look at my pantry and take an inventory and just add some extra to that but not go hog wild.
The Kids
The other thing I plan to keep in my back pocket: ideas to keep the kids entertained. I don't want them to be scared and bored that is just a recipe for disaster for everyone. Kids will take their cues from adults so I want to have my plans set to help them feel safe and confident if we do end up in a situation where they need to stay home, we need to make the best of it. After I sat down to think about it this one is pretty easy and not very expensive, Christmas was just a few months ago. What will I tell my kids if they are 'bored'?




Play Lego
Do word searches
MadLibs!
Color
Make Crafts
We have a ton of books
Board games
We have movies




And if I get really lucky I can disguise a round of organizing toys as a scavenger hunt to help reduce clutter. Sure that is a stretch goal and an ideal, it would be awesome to get to but I don't anticipate reaching it, but a girl can dream.
Below is a round-up of sites that had a list of lists of things to do with your kids at home, there are certainly duplicates between the lists and some things won't be a good idea because it is March in New England, but there will still be plenty of things to pick from.
Updated 4/15/2020 I received an email request to include the link below to this post, I did not receive any compensation for its inclusion.
https://www.creditcards.com/credit-card-news/financial-literacy-teaching-resources-for-parents-and-teachers/
I do not want to provide the link without noting some of the issues that surprised me and gave me some concern, even though I feel overall it has value and worth reviewing.
I am disappointed that some of the links in the resources guide were to non-secure sites. There was one site that was linked to twice for different resources, one of the links was to a secure site and one was not.

The sites listed in the resources guide may or may not require you to create an account, but in my opinion, it simply doesn't look good for a site that is talking about teaching financial literacy to have links to sites that are not secure.

I am disappointed that the apps they reference in the resources section are linked only to the iTunes store and they completely neglect the Android market. I only checked a few of the apps but they are available in the Play store as well.
That is not to say that the whole thing is not worth your time, because I do think there is value to the site. The things that I did like:
They have two major age groups they are targeting; grades 6-8 and grades 9-12.
For each age group they cover 6 topics; Earning Income, Buying Goods and Services, Saving, Using Credit, Financial Investing, Protecting and Insuring
Overall, the site helped me think about how to teach financial literacy to my kids because it is an overwhelming topic as a whole but I find having it broken down certainly makes it a lot less daunting. It is a great jumping-off point for parents so you don't have to try and figure it all out on your own, but do use caution when using the non-secure sites, if you have to create an account to play be aware that any personal information that you provide is not sent on a secure connection.
What About Large Group Activities?
At this time we don't have any plans to attend a lot of group activities outside of attending school, work, and Church, simply because I didn't have anything previously planned. It has nothing to do with the current situation. I do have a few small group things planned with one or two others, and I do not intend to cancel unless someone gets sick, again just something we would normally do anyway. However, I don't plan on adding any large group activities to our schedule. If some opportunity comes up I will take a wait and see approach and decide if we should go when the time arrives.
My final step is to incorporate what I learned in "The Power of Bad". I will listen to the news to make sure I am informed of the situation but I am not going to feed the crisis mongers and hang out watching hour after hour of statistics, how to prep stories, repeated tellings of horror stories, etc. After this post I am done with this crisis, I will go about my business and I encourage others to do the same. On social media, I will snooze friends or family that seem prone to panic and not engage and be drawn into the panic.
Panic breeds panic, it is a vicious cycle so I would like to do what I can to help break that cycle. For me, one of the best ways to avoid panic is to have a plan in place that was made in advance. As I conclude I think that I have put together a calm and pragmatic plan for 'just in case' to help my family weather any type of situation. I hope that you join me in the calm and pragmatic camp and rather than joining the panic brigade. In the famous words of Forrest Gump: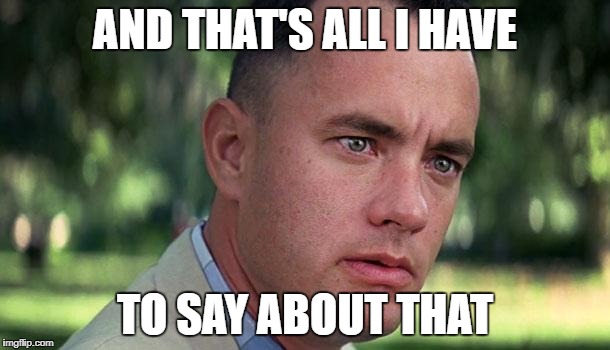 ---
NOTE: I am not being paid for my mentions of people, articles, products, or books I used above nor do I receive referral compensation. The links I provide are for your convenience only.

Unless otherwise indicated I sourced the links provided while researching a post. Links that I provide at the request of another person/business will be noted, and if I am paid to provide a link I will disclose that information on the post in which it is applicable. All opinions are mine, regardless of whether or not I am compensated, and are not in any way influenced by the requesting party.

DISCLAIMER: This advice is general in nature and not to be taken as personal professional advice. This blog does not provide legal advice if you need legal advice, please contact an attorney directly.
Share via: